Hello!
Finally I'm going on with my music challenge.
This is part of my sixties collection.
I'm a huge fan of The Beatles. I know it doesn't seems like, otherwise I would have more CDs but they aren't easy to find or totally expansive – which is, of cause – right because they are heroes!
When I'm listening to their music, I always want to sing, dance and having fun.
Or I want to cry and enjoy a little silence.
My favourite song is
My love for that band started when I was a kid. At the beginning of the 90s a new version of 'Yellow Submarine" came out and I thought: "That's pretty cool". I didn't know that it was mostly about drugs and stuff but I found out who this band was.
Once a fan, always a fan.
When I was in school one of my teachers loved that band too and he gave me a music cassette with all the amazing songs. I guess I still have this MC somewhere.
It was cool to talk with a teacher about music.
Anyway. My sister is a fan too. Which was always good because sharing a room and don't having the same taste in music would be a problem.
John Lennon:
October, 9th 1940 – December, 8th 1980
I know that it was before my time but to know that he died in such a tragic way is still a shock.
He was so young, had a family and was the icon of a whole generation and far beyond.
Lennon wrote most of the song.
George Harrison
February, 25th 1943 – November 29th 2001.
It was a shock when he died because of cancer.
Richard Henry Parkin Starkey alias Ringo Starr was born July, 7th 1940.
Last record: Postcards from Paradise 2015.
http://www.amazon.de/Postcards-Paradise-Starr-Ringo/dp/B00SSL4CDY/ref=sr_1_4?ie=UTF8&qid=1462951780&sr=8-4&keywords=ringo+starr
He is one of the most amazing drummer in music-history.
SIR  (James) Paul McCartney was born June 18th, 1942.
Paul McCartney is amazing! I totally love his voice
I don't like Rihanna and Kayne West but this project shows that he is still totally popular.
Next month a new CD is coming out:
http://www.amazon.de/Pure-Mccartney-Paul/dp/B01DN253HG/ref=sr_1_4?ie=UTF8&qid=1462952126&sr=8-4&keywords=paul+mccartney
When I take a look about the genre, it seems that this record could be something special. It's listed in Jazz, Rock and Pop.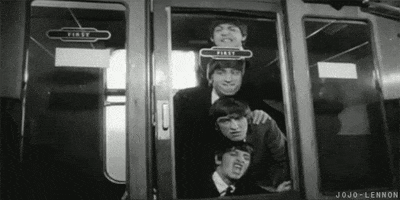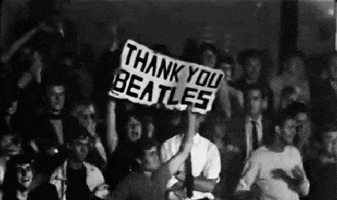 The Beatles were the first boyband the girls just screamed for and cried (and had some daydreams 😉 It was the time when girls found out about music. Different to Elvis. The fab four were sweet, sexy and funny.  Without their music the world wouldn't be the same.
Sometimes I think the world needs more of John Lennons "Imagine". More of the hope and trust.
Have to say goodbye for now. Maybe I'll write a new post about that amazing band soon. They deserve all the love they get.
I'm totally proud to be a fan of them since 1994 ➡ when Yellow Submarine was rereleased for their anthology.
Maybe even earlier but this is what I remember. I was nine years old.