Hey there 🙂
I'm a fan from Green Day since April 1994, so it's been almost 23 years. Amazing, right?
I was nine years old and the music channels just came up with 'Basket Case' and 'When I come around'. It wasn't easy for a nine years old girl to get into that because Boybands were all around (Okay, have to admit: I still love some of the boybands) but I simply loved Green Day for their style and sound.
Billie Joe Armstrong had something really interesting for me. But like I said: it wasn't easy.
I didn't get a CD in time and had to wait so many years until I got one.
I was always an outsider
but the first time I'd listend to 'Basket Case' I felt something special and I knew that they would never give up. They weren't my favorite band from the beginning but step by step they burnt themself into my heart. They understand, they are there. Not in person – obviously, but with their music.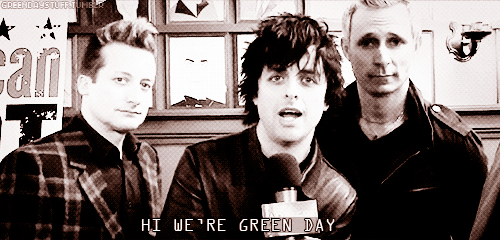 Billie Joe Armstrong is such an amazing person – and he's so hot.
My biggest dream would be a CD with The Beatles (Paul McCartney and Ringo Starr) and Green Day
Happy birthday to the one and only: Billie Joe Armstrong!
February, 17th 1972. Can't believe he's 45!
I'll be 32 in March. There are just 13 years between us but it feels like a lifetime.
Thank you Mr Armstrong for saving me with your fantastic voice.